Automatic Delivery is a FREE service for our customers in parts of Schuylkill, Carbon, and Lehigh Counties that gives you the greatest convenience for your home heating. Our computerized Degree Day system anticipates your heating fuel use, and we deliver fuel automatically when you need it. Heating fuel deliveries are based on the outside temperature and your home's heating oil history.
CHOOSE CONVENIENT AUTOMATIC DELIVERY
---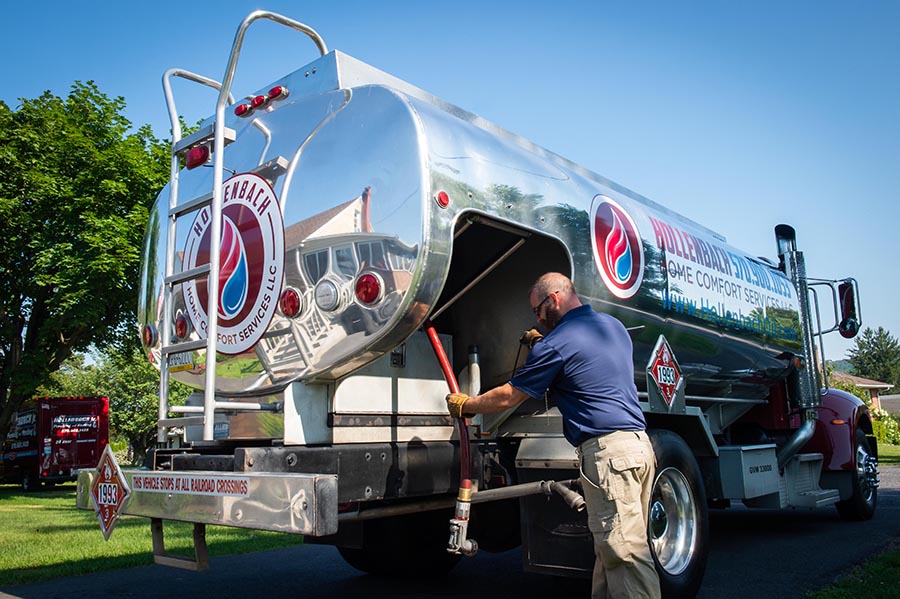 Benefits of Automatic Delivery
Enrolling in Automatic Delivery from Hollenbach Home Comfort Services has several potential benefits for you as a homeowner. These include:
Deliveries are automatically scheduled based on degree days (temperature) and oil usage history*
Complete peace of mind
Immediate delivery and restart in the event you run out of oil (applies only to current accounts)
*IMPORTANT EXCEPTIONS: Exceptions to your usual use require attention if you are on Automatic Delivery. Please see the list of factors that can affect your anticipated oil consumption below, and address them with us immediately if you are on Automatic Delivery.
ENROLL IN AUTOMATIC DELIVERY
---
What Can Affect Anticipated Oil Consumption?
If you're an Automatic Delivery customer, you must be aware of any potential changes to your anticipated oil consumption. Your anticipated oil consumption can be affected by any of the following:
The addition of a new room or rooms
A change in the number of household members, such as a retirement, an elderly parent, or a new baby
Installing or removing an oil-fired hot water tank
Going on an extended winter vacation
Moving out of your home
Generally, we can adjust oil deliveries to reflect your new usage, but you should let us know if the above factors will affect your heating oil consumption throughout the year.
SIGN UP FOR AUTOMATIC DELIVERY
Is Your Fuel Use Unpredictable? We Recommend Will-Call Delivery
We do not recommend Automatic Delivery if your fuel use is unpredictable. You should not be on Automatic Delivery and consider Will-Call Delivery if any of the following apply to you:
You use a heat pump, wood burner, or other alternate heat source
You do not live in the residence full-time (it's a summer home or seasonal camp)
Learn more about Will-Call Delivery by visiting our Will-Call Delivery page.